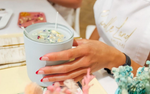 Raise Your Gift Game This Year with Experiences
When a gift-giving occasion approaches, the prospect of choosing the right item for a loved one can feel stressful—and sometimes, the receiving end isn't any better. How often have you received a gift that you know is destined for a thrift shop? Even the presents we like can lose their appeal, or we simply don't have storage to keep them around.
When you reflect back on your life, likely, your happiest memories are less about the gifts you received and more about the people you shared experiences with. Whether it was your first vacation to Disney World, cooking with your family or countless late-night happy hours, the gift of these memories can last a lifetime.
So, why not raise your gift game this year by sharing experiences with those you love? Whether you join in on the fun or let them fly solo, inviting a friend to try something new will be a gift they never forget. At Candle Land, we specialize in unique experiences, and our custom candle-making experiences are the perfect gift to share with your friends or family.
What can I expect in a candle-making class?
Depending on the size of your group, your candle-making session may last anywhere from 45 minutes to an hour. The process begins with choosing the vessel to hold your custom candle. Our team has hand-picked a variety of containers with unique colors and patterns to choose from—what you create should reflect who you are!
Next, you and your squad will customize your individual candle scents. There are plenty of smells to choose from—and our team will help you explore all the latest options. Our new fall fragrances include delicious aromas like vanilla woods, coffee crumble and pumpkin pie. We'll show you how to measure and mix your fragrance before moving onto the pouring stage. This part can feel a little tricky, but our experts will be there to help you along the way. It takes about an hour for the candle to dry, so you can plan to shop around or grab a bite nearby to pass the time. If you're unable to wait, don't worry. You can always come back another day to pick up your brand new, uniquely-you candle.
What types of groups attend candle-making class?
Anyone can make a reservation and join a candle-making class. We often see couples on date night, bridal parties, families (must be 10+ years or older), anniversary parties or just a great girl's night out! We also host private events, which are the perfect fit for corporate team-building meetings or bachelorette parties. Private events include a candle-making workshop and the option to bring in a little food and beverage to make the experience a proper party.
How do I give this experience as a gift?
Luckily, there are a couple ways that you can book a night of custom candle-making fun. First, you can book directly through our site and set up a reservation. Be sure to enter the correct amount of attendees so that our team can plan to accommodate your group. Alternatively, if you don't want to lock in a date, you can send a Candle Land gift card and let the receiver pick their time, place and party size.
Are experience gifts right for me and my friends?
"If there [were] 100/100 stars, I would totally rate this place a gazillion stars," shared one of our recent visitors. "[It was] super fun with friends and family, they gave you instructions, super cool scenery, and they had a variety of candles and scents for your customization, and yes... you bring it home!"
This year, it's time for a change of pace in the gift-giving season. Instead of grabbing your nearest gift bag, create some new, happy memories with non-traditional experience gifts. If you're in the Miami area, don't hesitate to book your experience today with Candle Land. Our team is always available to answer your questions—we'll help you, your friends and anyone else you love create one-of-a-kind candles to burn in your home, and memories to keep forever.