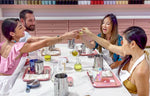 Candle Making and Conversation: What to Expect at Candle Land
Make 2022 the year to connect with friends and family members once again and explore local activities you can all do together. One such option is candle making—this is a memorable experience to share with loved ones, while immersing yourself in a unique creative process.
If you are in the Miami or Fort Lauderdale area, a group candle making class is a fun activity to do with your friends—and Candle Land is here to curate and personalize it just for your crew. Here's what you can expect in a Candle Land workshop and why it's ideal for a special occasion or even just a night on the town.
Background on Who We Are at Candle Land  
After previously offering mobile classes in various locations around Miami, at the start of 2020, we opened our first brick-and-mortar flagship store in Wynwood, just before this pandemic changed life as we knew it. Despite this unexpected curveball, we were fortunate enough to reopen our doors once it was officially safe to, and we since have grown to three Candle Land stores across the South Florida area.       
We are passionate about the art of candle making here, and we love to share this creative outlet with our guests. To that end, our knowledgeable, enthusiastic instructors turn each workshop into an immersive experience that's both educational and entertaining. If you want a fun activity to do with your friends, look no further. Our group classes are definite crowd-pleasers and we'll talk you through what to expect each step of the way.
Reserve and Prepare for a Candle Land Workshop
We keep the size of our classes relatively small to create an intimate experience for our guests and maintain social distancing for optimal safety. So due to the limited number of available seats, we ask each member of your group to reserve spots ahead of time. The average size of a workshop is 15–20 participants, and the cost is $50 for each person.
This fee includes all the materials you'll need, such as the vessel to make your candle in and the fragrance oils to infuse it with. The workshop will last anywhere from 45 minutes to an hour, plus an additional 45 minutes for the candle to set, so you can take it home. We recommend that you arrive 10 minutes before the workshop starts to allow time for parking. Guests who are more than 10 minutes late will not be able to enter the class, as it's crucial not to miss any steps and instructions in the candle making process.   
At Candle Land, we ensure the materials and fragrances you'll use for your creation are non-toxic, with natural soy wax, and safe for skin. Our three-wick candles hold about 11 ounces of wax for 60 hours of burn time, so not only is this a fun activity to do with your friends, but those memories of a shared bonding experience will continue each time you light the candle at home.
What You Will Experience During the Workshop
Once your group of friends are registered and you arrive to start the fun, here's what to expect during the workshop itself. In between laughter and conversation, one of our instructors will help you with each of the following steps in the candle making process:
Pick your favorite Vessel and Fragrance from our large selection
Measure how much wax you'll need for the candle.
Measure the amount of Fragrance using a scale and beaker
Pour fragrance oils into the wax, then stir to combine.
Attach the wick to the bottom of your vessel.
Let the wick harden, then pour the wax into the vessel.
Decorate your candle with fresh flowers, petals, or glitter
If you choose to wait for your candle to set, so you can take it home the same day, we invite you to browse the retail section of our store and enjoy a 20 percent off discount on all Candle Land merchandise. Or if you have other plans right afterward and can't stick around for an extra 45 minutes, we will hold your candles free of charge for one month, so you and your friends can pick them up at your own convenience.  
Private Events or Collaborations
You can also take this fun activity to do with your friends up a notch with a private event or a collaboration with another local business. We love partnering with other unique artists and vendors in South Florida. We offer collaborative workshops that combine candle making with fitness, floral arrangement, soap or jewelry making classes, and so much more. This is just one of the ways we support our community of small business owners.
In addition, you can also host a private event at any of our Candle Land locations. From birthday parties and bachelorette weekends to family outings and corporate functions, book our space for a private workshop. You can even bring food or drinks to enjoy onsite while your group learns how to make candles in an intimate atmosphere. Whether it's a special occasion or you want a night out with friends, candle making is the perfect choice!