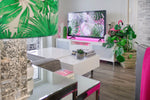 How to Make Your Home Feel Like You
When decorating a house or apartment, the aesthetic you choose and the pieces you find can elevate the whole space to feel cozy, inviting, and chock-full of personality—a home that you love retreating to. But how do you create an environment that speaks to your own vibe without blowing serious money on expensive custom upgrades?
Don't stress; it's entirely doable to infuse character and personal touches into your home, no matter the price range you must work with. Make a bold statement and unleash your one-of-a-kind, creative side with the interior design elements below.
From custom scented candles to wall photo galleries, to splashes of color and touches of quirkiness, these ideas will create the unique stamp you're looking for. They are affordable, quick and easy to pull off, but they're sure to take the entire space from mediocre to fun, vibrant charming and attractive—in other words, just like you!
Personalize the Entryway
The entryway is both the first and last impression guests will have of your home and who lives there as they come and go. Personalize it to make others feel welcome and show off a glimpse of who you are. Whether it's a custom doormat, unique potted plants or taking it a step further to repaint your front door a trendy color – the possibilities are endless! Once directly inside, think about the aesthetic of your entryway. Is it warm and inviting? Do you have pictures handing on the wall, a cozy rug or a signature scent welcoming your guests? An entryway can set the mood of your whole house. 
Make Your Own Custom Scented Candle
The signature scent of a house is just as important as how it looks, and the fragrance in your space will communicate a lot about you as a person. For instance, are you warm like cinnamon spice, energetic like fresh brewed coffee, timeless like vanilla bean, breezy like ocean air, or polished like crisp new linens? Reflect this at home with custom scented candles. You can also make your own to personalize the experience even more.  
Brighten the Space with Bold, Fun Colors
You don't have to spend weeks painting the walls to bring more color into the space. In fact, subtle accessories and small design touches can be just as effective at infusing bursts of color without a major time or financial investment. Think: a turquoise area carpet, a bold orange throw blanket, a few green indoor plants or a multicolor art collage. Various textures, patterns and geometric shapes are also fun to experiment with. 
Dedicate a Wall to Your Favorite Photos
In this era of smartphones and social media, tangible photo prints are less common than they used to be—and that's a shame because they make for beautiful and personal home décor. Print some of your favorite photos, then purchase inexpensive frames and create an eclectic photo gallery on a wall in the living room or staircase. From travel photos to family and friend photos, to even photos of your pet, it's all fair game and considered modern wall art.   
Change Things Up
Sometimes it takes a couple of tries for your home to feel functional and just like you. Furniture and design pieces don't always have to stay in the same space. It can be fun to move things around and test out different spaces to see what fits you best. Sometimes you'll find you enjoy certain aspects of your home more once they are rearranged. Maybe the accent chair in your living area is more functional in your bedroom for when you read in the mornings. Or maybe your bathroom just needs a different light fixture for it to truly feel like a sanctuary. Things don't have to be permanent and what works one season might not work the next – it's okay for your home to evolve as you do!
Personalize Your Space to Make It Feel Like Home
There's something so cozy about a space that reflects the person who calls it home, so use these interior design touches to leave a unique, personal mark on your own environment. This could mean that you light a custom scented candle or that you cover a wall with meaningful family photos—but whatever home means to you, look for creative ways to personalize your decorating aesthetic with imprints of who you are.