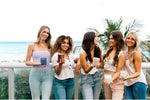 Not Your Average Bachelorette Party: How to Do It Differently
It's no secret that Miami is a premier destination for bachelorette weekends. With our numerous beaches and famous nightlife scene, this city knows how to bring the fun. But if you're on the hunt for some Miami bachelorette party ideas that aren't necessarily basic, your search is over, thanks to Candle Land.
Not only will this immersive experience make for an abundance of Instagram-worthy moments—it's also a chance for your crew to unleash their artistic juices and create lasting memories in the process. As you consider all the Miami bachelorette party ideas to choose from, make sure a private workshop at Candle Land tops the list.
This is not your average bachelorette weekend—it's different, unique and entirely unforgettable. On that note, here's all you need to know about how to plan and host the ultimate Instagram-able bachelorette party here at Candle Land! 
Why Make Candle Land Part of Your Bachelorette Weekend?
The reason is simple: you'll experience something new and special that you just won't find at a nightclub—or anywhere else in Miami, for that matter. Your entire group is sure to have a blast as our passionate and enthusiastic instructors walk you through each step in the candle making process. Then, after the workshop, everyone will have their own beautiful, personalized creation to take home as a souvenir from your weekend together.
Booking a private event with us couldn't be easier too—just fill out the contact form on our website, and we will help you curate the whole experience. Our space is bright, lively and intimate which makes it the perfect backdrop for bonding with your friends, while snapping one or two (or 10, but who's counting?) photos for social media.
You can even bring in food or drinks to enjoy during the private event. So if a bachelorette party wouldn't be complete for you without charcuterie and champagne, by all means, we understand. But of course, since the real point of a bachelorette party is to send the bride-to-be in your group off to married life in style, the hands-on experience of making her own candle is both a personal and practical gift that she can use at home as a newlywed.
Here's What to Expect at a Candle Land Bachelorette Party
 When your group arrives at Candle Land for the bachelorette party festivities (we recommend that you plan to be here 10 minutes before the workshop begins), each of you will start by choosing a vessel for your candle from over a dozen beautiful, colorful options. Then, you'll pick a fragrance oil to infuse the candle with.
All of our fragrances are non-toxic, and, cruelty-free—not to mention, there's something for everyone. Peruse a variety of different scents, from warm spices and herbal aromatics to tangy citrus and clean, natural freshness.
Once you all have selected both a vessel and a fragrance our instructors will teach you how to measure out the wax, combine it with the fragrance oil, secure the wick, pour the candle liquid into the vessel, then allow your handiwork to set. The final step takes about 45 minutes, so as the candle wax dries, we invite your crew to shop our retail section—you'll each receive a 20 percent off discount on all Candle Land merchandise.
Candle Land is the Perfect Bachelorette Party Destination
There are tons of Miami bachelorette party ideas to consider, but none are quite as special and memorable as a private event at Candle Land. This experience is unlike any other, so if you want a bachelorette weekend that feels much different from the stereotypical norm, we encourage you to contact one of our three Miami area locations in South Beach, Wynwood or Fort Lauderdale. We would love to host your bachelorette weekend.
 Our stores are also conveniently situated near local restaurants, boutiques and other forms of entertainment, so you can keep those fun times rolling after the workshop too. Of all the Miami bachelorette party ideas out there, we're so honored that you are interested in making Candle Land part of the festivities—it's a decision we promise you won't regret!